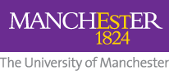 Home
Occupational Health Service
Contact Us
IMPORTANT:
Relocation of Occupational Health appointments

From Tuesday January 3rd 2017 all undergraduate appointments will be at 182-184 Waterloo Place and all postgraduate and staff appointments will take place at the Mill. Any appointments that have already been made for the 3rd of January 2017 onwards have been transferred to the relevant site.
Opening Hours: 9am-4pm (Both Sites)
An appointment is required (see referrals or How to Book an Appointment). We are not a Primary Care Service or a drop-in centre.
Waterloo Place
Tel: 0161 275 2858
Fax: 0161 275 3137
Email: waterlooocchealth@manchester.ac.uk
Address: 182/184 Waterloo Place, Oxford Road, Manchester, M13 9GP
Campus Map Location: Building 38
The Mill
Tel: 0161 306 5806
Fax: 0161 306 3245
Email: millocchealth@manchester.ac.uk
Address: B22 The Mill, Sackville Street, Manchester, M13 9PL (Sat Nav: M1 3BB)
Campus Map Location: Building 14