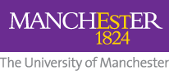 Home
Occupational Health Service
Latest News
IMPORTANT INFORMATION REGARDING HEPATITIS B VACCINES
Public Health England has advised that there is currently a global shortage of Hepatitis B vaccine which has been caused by problems in the manufacturing process. As a consequence all Occupational health departments have
had restrictions applied on the number of vaccines they can obtain. How does this affect you?

Welcome to The University of Manchester Occupational Health Service
The University of Manchester Occupational Health Service provides confidential services to protect the health of staff and students at work, in training and in study and assesses and advises on fitness for work, training and study to ensure that health issues are effectively managed.
From Tuesday 3rd January 2017
The service for ALL Undergraduate students is located at 182-184 Waterloo Place Oxford Road, Manchester. M13 9GP Tel: 0161 275 2858
E mail: waterlooocchealth@manchester.ac.uk
The service for Staff and Postgraduates is located at B22 The Mill, Sackville Street, Manchester. M13 9PL (sat Nav: M1 3BB) Tel: 0161 306 5806
E mail: millocchealth@manchester.ac.uk
(see our Contact Us page for more detail)
Clients are seen on an appointment only basis, we cannot provide primary care, minor injury or accident and emergency service.