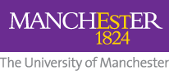 Home
Occupational Health Service
Latest News
Upgrade to Occupational Health IT System
The Occupational Health IT System is being upgraded between Wednesday 10th April and Tuesday 16th April. The Occupational Health team will be unable to book appointments or process forms during this period. The team will process requests as soon as possible once the system is up and running on Wednesday 17th April. Please note we anticipate there being a large number of enquiries to work through so ask for your patience during this time.
Welcome to The University of Manchester Occupational Health Service
The University of Manchester Occupational Health Service provides confidential services to protect the health of staff and students, assessing and advising on fitness for work, training and study, so as to ensure that health issues are effectively managed.
The University believes that all staff and students should have the opportunity to access high quality Occupational Health support for health issues which are a result of, or which affects, their employment or study within the University.
For Staff and Postgraduate students contact: The Mill, Sackville Street, Manchester. M1 3BB Tel: 0161 306 5806. Email: millocchealth@manchester.ac.uk
For Undergraduate students contact: Waterloo Place, Oxford Road, Mancheseter. M13 9GP. Tel: 0161 275 2858. Email: waterlooocchealth@manchester.ac.uk